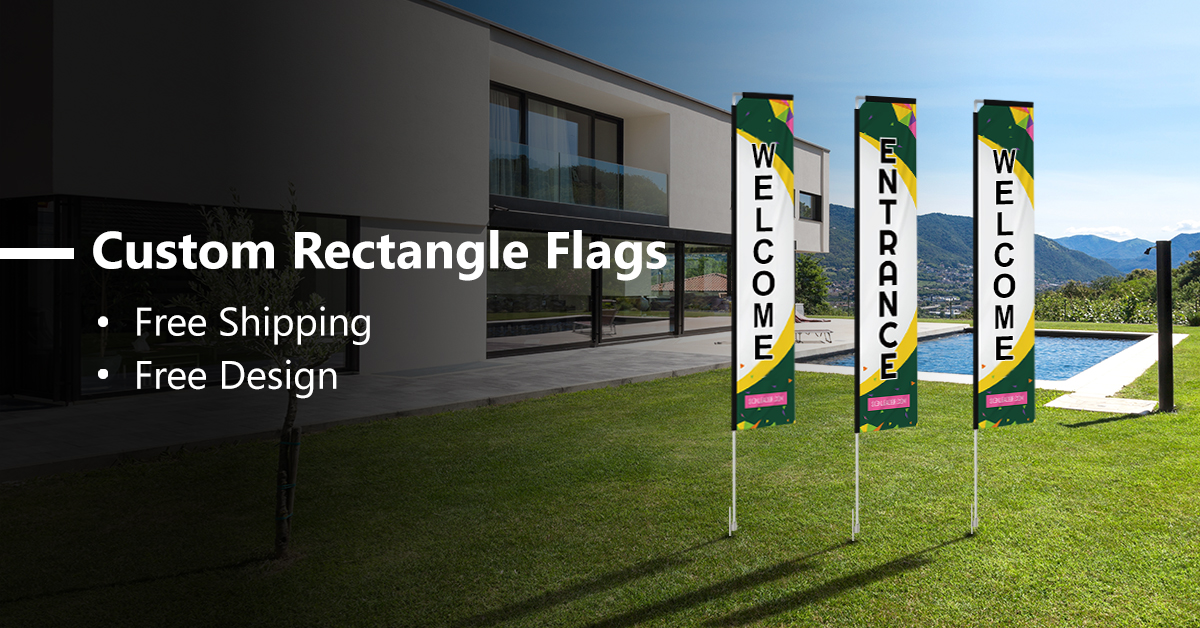 What are the rectangular flags?
Rectangular flags or rectangular sign banner is a rectangular advertising sign, which is part of the feather sign line. They are rectangular instead of curved. These rectangular banners provide more space for custom message printing. So it is very suitable for displaying large amounts of information. Even if there is no wind, the top banner arm can display the complete design. During the sales period, such custom signs are usually seen at event booths, commercial trade shows, and outside stores.
Why does the rectangular flag enhance the brand?
The main purpose of customizing the rectangular logo is for advertising or promotional events. For example, you can see these signs at the entrance of festivals, sporting events, and school events. Not only can they remind passers-by to pay attention to the sales in stores or the discounts offered by companies outside the building, but there are no restrictions on the use of feather signs.
Rectangular signs are not only economical but also effective in display advertising and can be used in various activities and places. They are very convenient to set up and install and easy to disassemble. Custom printed unique shapes with company logos or artwork are very eye-catching and can draw attention to your business area.
Rectangular signs can be printed on one side or two sides. Due to their size, durability, and portability, different shelf options are perfect for you to use these signs indoors and outdoors.

Rectangular markers have pole sleeves, printed logos, bags, and ground spike bases as standard contents unless a different base or base combination is selected. Such as cross base, square chassis, water base.
Although it is called a "rectangular logo banner", these logo banners and their names are usually interchanged because of their shape. Such as feather banners, teardrop flag banners, commercial and advertising banners.



Each base is designed to add stability to the rectangular sign banner when displayed indoors and outdoors. The square base is our heaviest base option, weighing 21 pounds. The base is very suitable for display on outdoor surfaces. Because of its weight and size, the square base is not easy to carry, so we recommend using it in a fixed position. The cross base is an ideal portable base for use in trade fairs, conferences, or mobile kiosks. 4 foldable legs make this base can be put into various travel bags or suitcases.They are also very suitable for attracting people to flow to booths, kiosks, or business development locations.
Rectangular banners are designed for outdoor and indoor promotional displays. These slogans are portable and can be taken to trade shows, conferences, or used in various indoor & Outdoor events. They are often used for parades, grand opening ceremonies, building buildings, various shopping malls, banks, events, etc. The large printing space of the slogan makes it very suitable for displaying various advertisements, logos, and commercial brands.
All in all, if you are ready to take your business to a new level and start to seriously build the company's brand awareness, you need to choose the features that use these logos. Although brand awareness may not be achieved right away, you can definitely use reasonable strategies and tools to help achieve this process. The custom feather logo can provide you with support without exceeding your advertising budget.