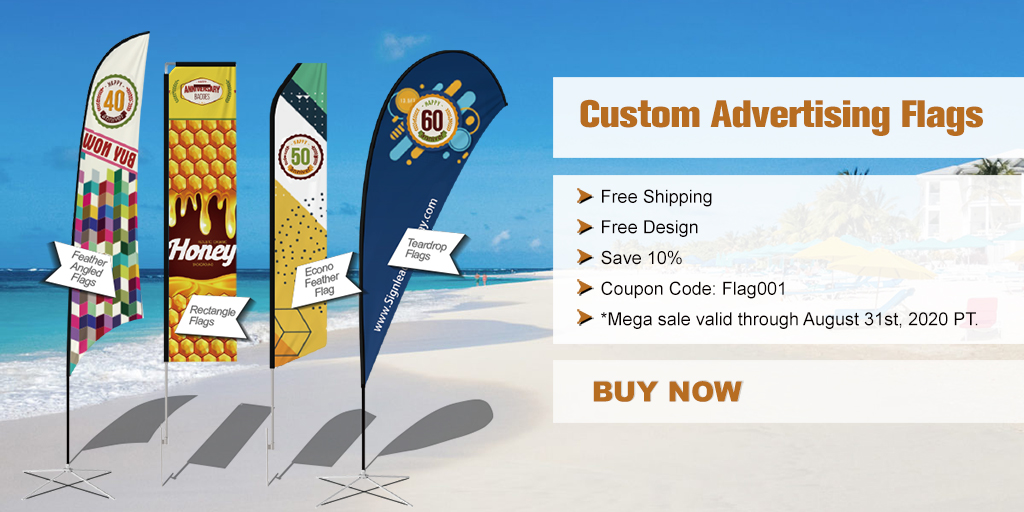 In this special COVID-19 period in 2020, how companies counterattack in a difficult situation is crucial. Such as real estate, automobile 4S shops, shopping malls, catering, jewelry store promotions, church feather flags, or any outdoor promotions, how to correctly display advertising notices?
There are many types of indoor and outdoor advertising, and different advertising formats for any industry to attract more customers, increase traffic, and increase ROI conversion. But no matter what kind of outdoor advertising, there are standards for its judgment. For example, open feather flag.
The advantages of feather flags
1. The image of the feather flag is prominent, the theme is bright, the design is novel, eye-catching, and easy to remember.
2. The visual impression is better. Outdoor advertisements are mostly huge colorful billboards, which are unconsciously mandatory.
3. There is a better consumption stimulus. Feather flag banners not only have a good suggestive effect but also can cause consumption impulse
4. Feather banner flag is not restricted by time and space, let anyone appreciate it at will, and has long-term timeliness.
5. Lower cost. Based on the cost per thousand people, the cost of outdoor advertising is lower.
6. Long life cycle. Feather flag signs ads are generally displayed for a long time, which is conducive to information that needs to be repeated and strengthened.

The following will introduce the influence of feather flags on many industries, such as real estate, automobile 4S stores, shopping malls, restaurants, retail stores, etc.

1.Visual impact

A giant billboard set up in a prime location, or a bus shelter that meets everywhere is a must-have for any company that wants to build a lasting brand image. Many well-known outdoor billboards have become famous landmarks in a certain area because of their long-lasting and outstanding.


2. 24 hours

Much outdoor media releases continuously and around the clock, standing 24 hours a day, 7 days a week, with the most time for dissemination. Online media also has similar advantages, but in the virtual world, audiences need a series of prerequisites to get close, while outdoor media, because of the uniqueness of physical space exerts this advantage more thoroughly.

3. Strong information impact

Outdoor media can mobilize a variety of on-site expressions to create a comprehensive and rich sensory stimulation. Images, sentences, three-dimensional objects, dynamic sound effects, environment, etc. can all be integrated into cleverly.

4. Frequency of creation

Through strategic media arrangement and distribution, outdoor media can create an ideal arrival rate and frequency. The correct choice of time and place, plus the use of the correct outdoor media, can achieve the ideal range, reach almost every level of the crowd, and even seamlessly match the audience's life rhythm.

5.No holes

Whether it is a single media such as a single column, a neon sign, a wall, or a networked media such as a bus shelter, a car body, a subway, an airport, and a train station, the irreplaceable part of outdoor advertising is that it can often be exposed to other Audiences that the media cannot reach.


The characteristics of the feather flag

1. The water injection feather flag is the most widely used banner advertisement. The feather flag is also called the advertising flag, which needs to be injected with a lot of water to achieve the function of fixing the flag pole and the flag. It is used for outdoor advertising Or the exhibition site. Feather flag is beautiful, durable, and easy to install. It is a simple and fast display of advertising equipment. It is suitable for advertising in shopping malls, hotels, 4S stores, exhibition halls, and other stores. The base can be easily replaced and placed, and with the swivel head that can rotate with the wind, it can resist 5 strong winds and not fall easily; simple assembly and convenient use are the biggest advantages of the water jet flag. The height of the flag pole can be adjusted between fixed sizes. The plastic water injection base has a small weight and is very convenient for transportation. The effect of fixing the flagpole after being filled with water will be better.

2. Feather flag custom is generally used as the material of feather flags. The density of this fabric is smaller than that of Pongee. It is more suitable for use in some windy areas. Because of its low density, it is relatively better than Pongee in windy weather. The use cycle will be longer, learn to print beach flags, hanging flags, feather flags cheap, and most advertising flags.

3. The base can be easily replaced and placed with a swing head that can rotate with the wind. It can resist 5 levels of wind and not easy to fall down, simple assembly and convenient use are the biggest advantages of the water injection flag. The height of the flag pole can be carried out between fixed sizes adjustable, the plastic water injection base has a small weight and it is very lenient for transportation, and the effect of fixing the flagpole after filling with water will be better.

4.The main components of the flagpole
Including the feather flags with pole and the support pole (bracket) are all made of new aluminum alloy materials, which have the characteristics of sturdiness, strong corrosion-resistance, wear-resistance and not easy to deform. It is a long-term outdoor placement the best choice.


Signleader has many years of experience in printing advertising display which is your best choice for indoor and outdoor signs. Many retailers and advertisers are Signleader's loyal customer groups. Over the years, many customers' exhibitions and outdoor displays and other event signs are custom displays from Signleader, including advertising flags, double-sided feather flags, and teardrop flags. You can upload your feather banner template artwork to us or free design on our design system.