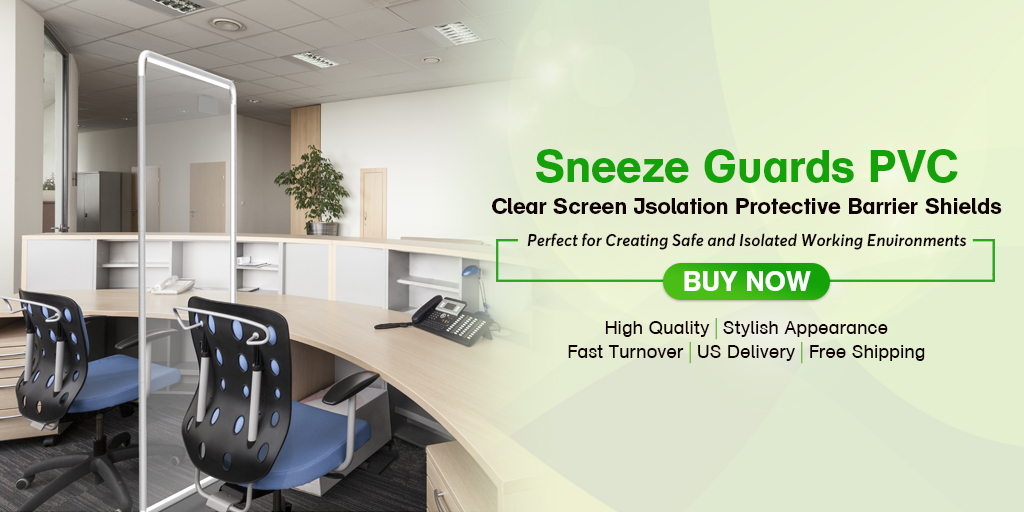 According to the emphasis of the World Health Organization and government officials, unrestricted reopening will lead to a surge in the number of confirmed COVID-19. Although small retailers and bookstores and clothing stores are allowed to open, businesses are required to provide roadside services. Strictly follow the SOP provided by the government and health authorities. It is recommended to install sneeze shields to separate the event space independently to protect the safety of employees and customers. Customer contactless ordering is the best choice. Merchants need to provide customers with hand sanitizer to disinfect their hands and encourage customers to avoid cash payments and use cards to pay

The office installs the sneeze guard stands to create a safe and protective barrier between people, avoiding the infection of the COVID-19 virus in the droplets. Keep social distance and pay attention to personal protection. Perform temperature checks and wear masks every day, wash hands frequently, ensure that workers have 6 feet of distance between them, close or restrict access to public areas, suspend thumb verification, and perform additional disinfection in areas with high traffic.
If 6 feet of social distancing cannot be ensured due to the nature of certain business, then the various transparent portable sneeze shields of Sign leader Display are your ideal choice.
What transparent PVC sneeze guard stands does Sign leader Display provide?
1. Adjustable Sneeze Guards Stands Portable
The sneeze guards for sale protection kits include an adjustable aluminum tube frame with a buckle and a 0.3mm thick soft PVC 450 GSM (+/- 10 GSM). The clear PVC panel can be fixed on the bracket. These multifunctional devices are very easy to install.
2. Sneeze Guards PVC Clear Screen Stands
Sneeze guard stand is an ideal barrier solution that shows customers and employees that you care about their health. Sneeze shields can help keep social distancing to improve safety and hygiene.
The Sneeze shields kit includes a durable aluminum Interlocking tube frame, a heavy-duty base plate, and a 0.3mm thick soft PVC 450 GSM (+/- 10 GSM). The transparent PVC panel can be fixed on the frame. These multi-function devices are easy to install. The whole process only takes a few minutes, just match the corresponding number on the end of each aluminum rod, and then align them.
3. Retractable Sneeze Guard PVC Banner Stands with Economical Base
Signleader Display provides a free-standing transparent and retractable sneeze barrier shields to help you protect the safety and health of employees and customers. We usually provide 31.5x79 and 33.5x79 inch sizes and bulk orders are welcome, you can contact us to get a bigger discount.
The retractable transparent sneeze protective shield kit includes a retractable aluminum frame with an economic base and a 450 GSM / 0.3mm transparent PVC roll-up film. These flexible devices are very easy to install and can fix the clear PVC panel to the sneeze guard frame

4. Retractable Sneeze Guard PVC Banner Stands with Deluxe Base
The retractable clear sneeze guard kit includes 1pc retractable aluminum frame with deluxe base and 1pc 450 GSM/0.3mm clear PVC roll-up film. The transparent PVC panel can be fixed on the bracket. These multifunctional devices are very easy to install. A complete sneeze shield can help prevent the spread of coronavirus. You can choose Signleader Display different sizes sneeze partition wall kit solution.
In addition, we also provide outdoor signs with Curb Side Pick-up graphic printing, medical tents, public automatic hand sanitizer standing stands, etc.
contact us
Sneeze shield standing stand. Use high-quality protective equipment that meets all standards set by health agencies to protect your employees and customers. Please click here to order the sneeze guard stands or email us at sales@signleaderdisplay.com
Tag: Sneeze guard stands, personal protective equipment, safety products, reopen signs.