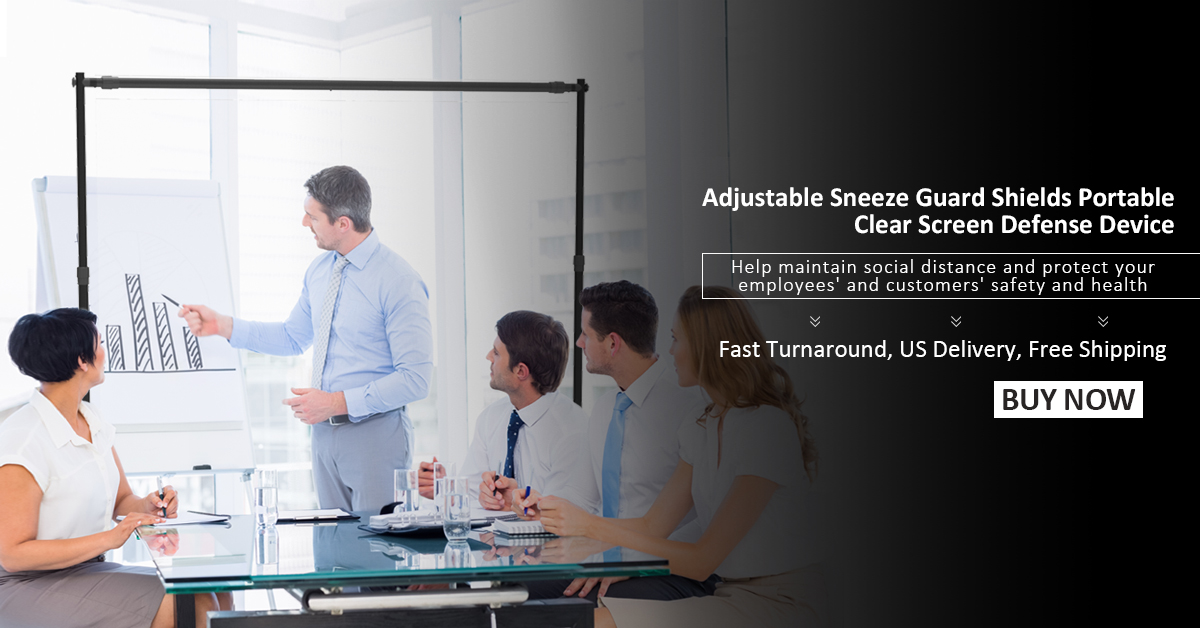 Signleader Display provides a series of sneeze guard solutions to help you achieve effectively infection protection.
The coronavirus pandemic is testing the limitations of the global economy and the global health system. This is a challenge for businesses and individuals. The global pandemic has changed the way we work, socialize, and navigate in public places. Masks and sneeze guards have become the norm. Installing sneeze guards in the workplace not only provides additional safety for employees and customers. Signleader Display has developed a series of sneeze guard solutions for these situations based on mature products. Now you can get high quality and fast delivery from us.
Adjustable & Portable Sneeze Guards
For example, many retail industries can use transparent barriers to prevent the spread of droplets when making payments or handing over products. Interact with customers in a safe environment. In order to meet the various requirements of the site, Signleader provides a variety of sizes and styles for these partitions. The adjustable sneeze guards are easily adapted to any occasion such as reception desks and checkout counters, offices, salons, schools, etc.
Sneeze Guard PVC Clear Screen Shields
If you need to cover a larger area, then our standing sneeze guard solution is very ideal. The sneeze shields can be used in any occasion, such as medical institutions, schools, offices, delicatessen, restaurants, gyms, retail stores, and grocery stores, cash registers or checkout counters in post offices, banks, pharmacies, warehouse workstations, salons, and other businesses Institutions, casinos, etc. The location between stations, even at airports or public transportation locations. Portable sneeze guards are used to preventing the spread of sneezing, droplets, and help keep open companies to maintain social distance.
The sneeze guard shield kit includes a durable aluminum interlocking tube frame, a heavy-duty base plate, and a 0.3mm thick soft PVC 450 GSM (+/- 10 GSM). The transparent PVC panel can be fixed on the frame. These multifunctional devices are easy to install. The whole process only takes a few minutes, just match the corresponding number on the end of each aluminum rod, and then align them. The durable zipper secures the PVC and tightens the entire frame. Allows you to create a safe environment without spending a lot of time or effort.
Retractable Clear Sneeze Guard Banner Stands
The COVID-19 virus is usually caused by the spread of respiratory droplets or small particles (such as aerosols) produced when an infected person coughs, sneezes, sings, speaks, or breathes, and is caused by respiratory infections. Therefore, the establishment of an independent safety barrier to sneeze guards will be more important than ever. Sneeze shields help to maintain social distancing and distance between people while preventing droplets and sneezing. Signleader Display provides retractable transparent free-standing sneeze protectors to help you create a safe working environment and protect the safety and health of employees and customers.
The retractable transparent sneeze protective shieldr includes a luxurious or economical base option, a retractable aluminum frame, and a 450 GSM / 0.3mm transparent PVC roll-up film. The transparent PVC panel can be fixed on the bracket. These multifunctional devices are very easy to install. A complete sneeze shield can help prevent the spread of coronavirus. You can choose Signleader Display different sizes of sneeze partition wall kit solutions. Durable aluminum tube bracket, steel luxury base, and PVC transparent board, professional appearance, American delivery, fast turnaround, free shipping, order now!
Get sneeze shields for your business
At Signleader, our sneeze guards are very popular, shipped in the US, fast turnaround, and free shipping. We provide a variety of different sizes of sneeze guards for you to choose to meet your health protection needs.
Shop our sneeze guard today to improve workplace safety and enhance the customer experience. Our high-quality transparent sneeze guards will benefit your team and customers. Bulk quantity discounts available, buy now!