Custom Car Magnets
176
CM-Custom
✔ Free 3D Mock-Up & Graphic Design
✔ Free Ground Shipping on Orders over $500
Estimated Delivery Date
PS: If you pick up the design and color matching service, the delivery time will be lated.
What is a car magnet? Budget-friendly, weather-resistant and durable custom car magnets are ideal for removable signs on personal or commercial vehicles. Car magnets with a smooth surface can be attached to the surface of a magnetic car to help enhance the effect of business promotion. Most suitable for magnetic door signs, it is also used for temporary signs on construction sites or other rapidly changing working environments. It must be noted whether the external car door mounting surface is metal compatible with the custom car magnets, otherwise, the magnetic vehicle signs will not work.
Custom car magnets can be designed according to your personality to meet your advertising display needs. The business car magnets are directly UV printed with a durable matte graphic appearance. Custom car magnet signs can be pasted on your door or tailgate, can be removed and reused frequently, and will be fade-resistant, which makes your car look amazing. Whether you are a retailer, advertising agency, or real estate agent, customizing car magnets is one of the cost-effective methods! To provide your vehicles with a professional appearance, Signleader Display's magnetic car signs and magnetic truck signs are your best choice. We are definitely your trusted partner, custom, and bulk quantity discounts available. Get Started order Signleader's custom car magnets now!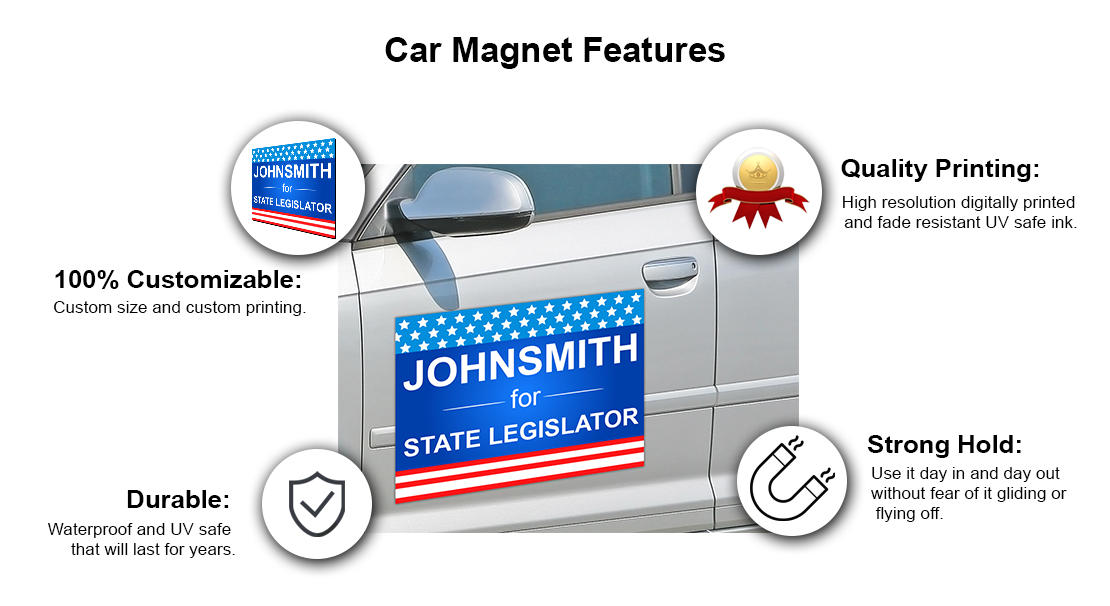 1. Can be customized:
Signleader Display can be customized according to your individual needs. You can also upload the design artwork directly, or use our graphic library's templates to design online, and even you can enjoy our manual design service for free.
2. Top Printing Equipment:
The car magnet uses the world's top printing equipment for UV printing, the graphics are vivid and have a very good appearance.
3. Strong Holding:
Custom car magnet signs can be firmly pasted on your door or tailgate and can be removed and reused.
4. Durable:
Car magnets are resistant to fading, weather resistance, and have a service life of up to 2 years under reasonable maintenance.
Installation Guides – Car Magnet
1. Recover magnetic memory: Put the custom car magnets on a flat magnetic surface for 24 hours
Since we roll up all the magnetic vehicle signs for transportation, please place the business car magnets on a flat magnetic surface for 24 hours to restore the magnetic memory before installation. If without this operation process, it may cause poor adhesion to the vehicle surface during installation and subsequent use.
2. Make sure to clean the vehicle surface and custom car magnets before installation.
We recommend cleaning the car body and wiping the back of the car magnet with a damp cloth (or use a neutral detergent mixed with water) before installation. To prevent any dust or tiny stones from scratching the paint of the vehicle, you can clean the vehicle and the magnet and let them air dry, and establish a magnetically attractive connection between the magnetic car signs and the vehicle surface.
3.Place the custom car magnets on a flat magnetic vehicle surface
Please make sure that the installation surface must be completely flat without any bends or bumps. It must be noted whether the mounting surface is metal compatible with the magnetic vehicle signs, otherwise, the car magnet will not work. To ensure proper installation, make sure that the car advertising magnets fully adheres to the surface. There is no air pocket under the magnet, and all parts of the custom magnetic signs are smoothly attached to the metal surface, including the edges and corners of the custom car magnets.
4.Avoid damaging the custom car magnets or the vehicle, please remove and clean both surfaces regularly.
Remove the magnetic car signs frequently to quickly clean the application surface and the back of the custom car magnets to extend the service life and maintain the magnetism when using magnetic vehicle signs on a daily basis. According to our experience, regular cleaning is sufficient.
5.During car washes or when not in use, please remove the magnetic car signs
Before any mechanical car wash or use of a power washer, please remove the custom magnetic signs first, both methods may permanently damage the car magnet. In addition, we recommend storing magnets that will not be used for a long time in a flat place and avoid direct sunlight.
Care
After disassembling the magnet of the vehicle, we advise you to clean the vehicle first, and then store it in a flat container in a cool and dry place, or use non-abrasive fabric on both sides. This keeps the custom car magnets in good condition for the next time use.
There are no frequently asked questions for this product...