Signleader Holiday Sale: Exclusive Deals & Savings
Signleader Holiday Sale | Deals on Custom Signs, Video Backdrops, Sneeze Guards & Trade Show Booth Ideas. Our biggest holiday sale has just begun! Shop our exclusive deals now for big savings, free shipping & free design.

Up to 50% Off Holiday & Seasonal Flags Custom Graphic Printed
Outdoor decorative flags can elegantly display your holiday decorations. You can choose various holiday graphic templates in our design library. Therefore, it is easy to dress up the house and garden decoration in every holiday & season. Signleader offer seasonal flags with holiday custom graphics printed to meet all your outdoor decoration needs. Including St. Patrick's Day Flags, Valentine's Day Flags, Easter Flags, 4th of July Flags, Halloween Flags, Thanksgiving Flags, Christmas Flags & New Year Flags. Fast turnaround, free design & free shipping.
Up to 50% Off Custom Holiday & Christmas Banners
Signleader offer a variety of custom sign options to meet your application needs. Celebrate the holidays with custom holiday & Christmas banners. Purchase for seasonal sales or events to promote your business, or just use beautiful Christmas banners hanging outside to create a festive atmosphere. You can enjoy free design services or use graphic templates of our design library to help inspire your designs.
New Arrivals! Web Conferencing Video Backdrops for Home & Office Workstation | Special Offers
Set up the best space for video conferencing at home/office. Whether you are using Zoom, Microsoft Teams, Cisco Webex, or ClickMeeting, you must set up the workspace for web conferencing correctly. Signleader offer ideal video backdrops with aesthetics and functionality. The bright green screen video backdrops give you full control of the background while still generating high-quality real-time video. It also ensures that no tones or objects are removed for the best results.
A-Frame Signs Custom Holiday Graphic Printed
We offer A-Frame signs with custom holiday graphics printed to meet your seasonal & holiday promotional advertising display needs. Fast turnaround, free design & free shipping. To get 10% off for purchase with a coupon.
Graphic Print Retractable Banner Stands for Holiday Events & Promotions
Full-color digital printing roll up banner stands can provide strategic marketing where you need it most. These portable & retractable banner stands offer visual cues to get maximum exposure. It is vital to attract potential audiences and make your brand or business immediately recognized. Lifelike, bright, and colorful graphics, show your brand and attract new business participation. We offer a variety of custom graphic printed roll up banner stands for business, enabling small and medium-sized business owners to showcase their presence at an affordable price with the professional level of the Fortune 500.
Poster Stands, Yard Signs & Custom Canopy Tents with Holiday Events Graphic Printed
Signleader offer practical, versatile, stylish, and affordable custom canopy tents, which are ideal for trade shows, exhibitions, music festivals, sports events, roadshows, weddings, birthday parties & events. Decorate your garden & yard with holiday graphic printed yard signs to celebrate the holidays and express the spirit of vacation. Poster stands with holiday graphic printing can be incorporated into your corporate promotional advertising marketing strategy.
Portable, Adjustable & Retractable Clear Screen Sneeze Guard Stands
The global pandemic has changed the way we work, socialize, and navigate in public places. Masks and sneeze guards have become the norm. Installing sneeze guards in the workplace not only provides additional safety for employees and customers. Signleader Display has developed a series of sneeze guard solutions for these situations based on mature products. Portable sneeze guards are used to preventing sneezing and droplet transmission and help companies reopening and keep social distances. The sneeze shields can be used on any occasion, such as medical institutions, schools, offices, deli, restaurants, gyms, retail stores, grocery stores, post offices, banks, pharmacies, warehouse workstations, salons, checkout counters, waiting areas, and public transportation place. Shop sneeze guards today bulk quantity discounts available & fast delivery.
Custom Car Magnets Offers & Coupons
Signleader Display provides durable, weather-resistant custom car magnets, reflective car magnets and dry erase car magnets to help improve business promotion effects. Whether you are a contractor, retail store, or real estate agent, custom car magnets are a cost-effective way to promote business development! Budget-friendly, durable magnetic car signs are ideal for removable signs on personal or commercial vehicles.
Trade Show Booth Ideas Deals Now for Saving 10%, Fast Turnaround, Free Shipping & Free Design.
Signleader Display offers portable & custom trade show booth solutions. Keep up with the latest exhibition trends, technologies, and best practices! Signleader is committed to helping exhibitors succeed in the evolving marketing environment. Signleader Display will provide solutions based on your specific needs and objectives. if you're an agency, we can work with you or your client either out front or behind the scenes. Free design, fast turnaround, free shipping. Purchase trade show displays for saving 10% with a coupon.
Holiday & Christmas Graphic Templates | Sigleader Display
We offer a large number of holiday & Christmas signs graphic templates to meet your online design needs.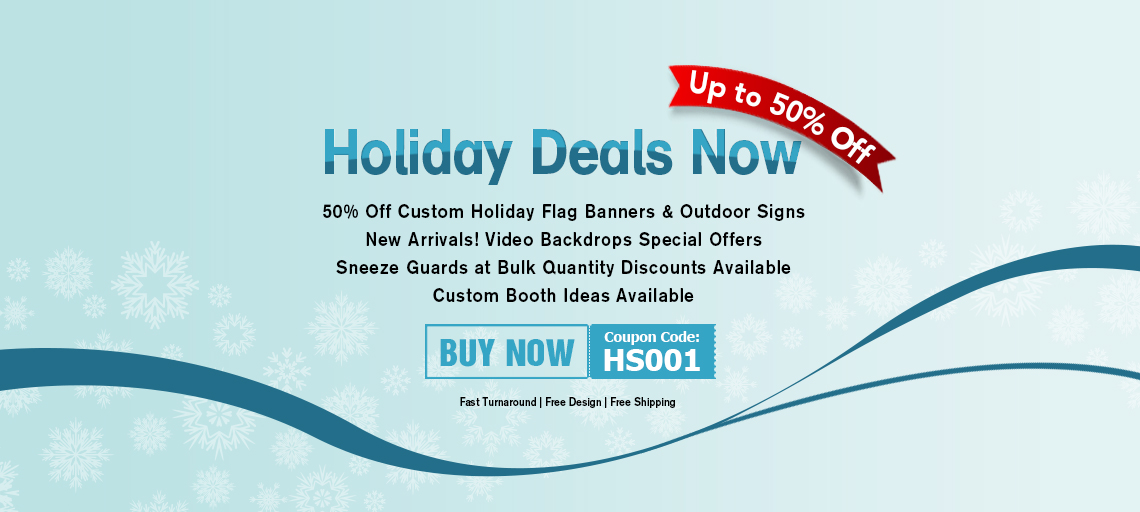 Shop at Signleader Display this holiday season to ensure you and your family have a very cheerful vacation. Now! Get great deals on holiday flag banners, video backdrops, sneeze guards, A-frame signs, poster stands, retractable banner stands, custom tents, yard signs, custom car magnets & trade show booths.
Whether you are at home creating the perfect vacation atmosphere or making seasonal & holiday promotional advertising strategies,our custom signs can meet your needs. We offer a large number of holiday & promotion graphic templates to inspire your online design ideas.
Christmas flags & Banners perfect for Christmas decorative house and yard, creating a warm Christmas atmosphere and expressing your personalized creative holiday spirit. 50 % off christmas garden flags & holiday flags deals now. Free design, free shipping & fast turnaround. Order now!
Perhaps the most obvious solution to optimizing your office for webcam calls is simply creating an office space that looks good on video.

When you make a video call for your business, make it look professional and clear. When you use a computer webcam in a home office environment, the video backdrops will help prevent people from seeing the messy room behind you and showcase the company's brand. So, video backdrops can give you a little extra edge for your web conferencing. We offer a variety of video backdrop solution ideas for your video call conferencing, to make sure you look amazing. From green screens to step and repeated video backdrops, a myriad of solutions for home office video backdrops available.
With the high-intensity infectiousness of the COVID-19 pandemic, many commercial establishments have installed sneeze guard shields. They can prevent bacteria, microorganisms, and polluting aerosols. They are also suitable for installation in public places to help maintain social distancing.

Install sneeze guards in the work environment to protect your employees and customers from sneezing or coughing airborne. This is an ideal sneeze guard stand solutions for any business that has frequent contact with people. It shows customers and employees that you care about their care. Sneeze guard protection devices help maintain a certain social distance to improve hygiene and safety.
Use sneeze guards to protect equipment to protect employees and customers. It can be used on any occasion, such as medical institutions, schools, offices, delicatessens, restaurants, gyms, retail stores, and grocery stores, cash registers, or checkout counters in post offices, banks, pharmacies, warehouse workstations, salons, and other commercial institutions, Casino, etc. The location between stations, even at airports or public transportation locations.
Participating in a trade show is a reliable strategy to promote your brand and develop its business, and it can draw the audience's attention to your business. Both attendees and participants will benefit from it. Meet new customers, understand the brand and product reactions of participants at the expo, and establish lasting business relationships with suppliers and other companies. Participants can introduce their new products to aspiring audiences in the same industry. Custom creative trade show booths have a significant impact on the growth of your brand and business.
Any enterprise can afford to participate in the exhibition. Trade shows provide companies with a fair opportunity to market their brands, regardless of their size. Signleader Display offers a variety of affordable custom trade show booths, which are attractive and cost-effective commercial options. Custom exhibition booths to suit your brand. Signleader provides trade show displays that can be built almost without tools, saving you the cost of installation and dismantling services. Therefore, you need to develop your brand strategy and correctly target your audience. In that way, Signleader Display trade show booth idea solutions available will definitely help your business stand out.
Frequently Asked Questions and Answers

Q;What kind of holiday & seasonal signs available?
A:Signleader Display offer christmas flags, holiday & seasonal flag banners, custom pole flags, decorative house flags, teardrop flags, custom banners, A-fame signs, poster stands, yard signs & outdoor signs & more. Up to 50% off holiday flag banners special offers. Shop our exclusive deals now for big savings, free shipping & free design.
Q: What is Signleader Display's holiday sale coupon code?
A: Coupon code: HS001
Q:What types of trade show booths available?
A: Signleader Display custom trade show booth idea solutions available.
6ft, 8ft & 10ft Curved Tension Fabric Display.
8ft, 10ft & 20ft Straight Tension Fabric Display.
8ft & 10ft Curved Velcro Fabric Pop Up Display.
8ft & 10ft Straight Velcro Fabric Pop Up Display.
Q: What web conferencing video backdrops for home/office available?
A: Retractable & Portable Green Screen Video Backdrop for Online Conferencing.
Ideal Green Screen Video Backdrop for Web Conferencing.
Adjustable Step and Repeat Video Backdrop Tension Fabric Display for Online Meeting.
Custom Printed Step and Repeat Video Backdrop Display for Web Conferencing.
Pop Up Video Backdrop Step and Repeat Graphic Printing for Online Conferencing.
8x8 Green, Black & White Screen Retractable Aluminum Tube Tension Fabric Backdrop Banner Stand.
Q: What are the types of sneeze guards?
A: Signleader Display provides adjustable & portable clear PVC screen sneeze guards, 3ft, 4ft transparent PVC sneeze shields, clear isolation sneeze guard banner stands. During Covid-19, sneeze guards placed in public places, which become our new normal will help create safer work, study, and healthy environments for communicating face-to-face with customers again. Our team will be happy to help you incorporate our sneeze shields into your business.
Q: Does the free design service available?
A: Yes. You can upload artwork directly, or use our online design tool. We provide a large number of graphic templates to meet your coronavirus business signs design needs. In addition, you can also use our free manual design service. Signleader Display is committed to giving you the best user experience.
Q: How to charge freight?
A: We offer free ground transportation for all orders over $500.00 in the United States (excluding Alaska and Hawaii).
Q: How long delivery after the order payment?
A: All custom signs will be generated quickly. After your order is placed before 2 pm PST, the artwork will be shipped on the next business day. Ground transportation is free and takes about 2-5 working days. If you want to get it in your hands faster, other shipping methods will suit your needs.
There are no products to list in this category.