Coronavirus Safety Signs, Sneeze Guards, COVID-19 Products Solutions.
Signleader provides a variety of coronavirus safety signs to help businesses of all sizes and communities reminder to keep social distancing, wash hands frequently, curbside pickup here, etc. In addition to strengthening social distancing and wearing masks, businesses of all sizes, schools, public places, etc can use sneeze guards to minimize contact. We provide a variety of sneeze guards protective barrier devices to help keep your employees and customers' safe and healthy.

Sneeze Guards Transparent Screen Isolation Device
Sneeze Guards is one of the best tools to resume work after COVID-19 to meet the needs of full service and security protection. Retail, catering, medical clinics, offices, counters, and any public places, etc., every industry has found some applications for these simple and innovative products.
Custom Banners with Coronavirus Warn & Notification Graphic Printed

Our free online design system offers a large number of COVID-19 graphic templates. Set up safety signs in your business premises to remind your customers to keep social distance, wash hands frequently, curbside pickup here, we are open, etc.
Custom Advertising Flags with COVID-19 Graphic Printed
You can upload artworks or use our Coronavirus graphic templates to design online. Customized Advertising Flags is one of the cost-effective advertising tools to help you increase the effectiveness of your advertising, budget-friendly, and high visibility.
COVID-19 Safety A-Frame Signs

We offer A-Frame Signs with coronavirus graphics printed to help companies notify your business and remind customers to keep social distance to prevent the spread of the virus.
Medical Tents, Poster Sands & Yard Signs with Reminder and notification Graphic Printed
Signleader Display provides medical tents to help medical institutions create temporary emergency rooms. High quality, and shipped in the United States. During Covid-19, we are here to support you. Poster stands and yard signs perfect for business notifications and security awareness reminders, etc.
Hand Sanitizer Dispenser Banner Stands & Roll Up Banner Stands With COVID-19 Graphic Printed

We offer acrylic sneeze guards to help schools, offices, counters, meetings, and communication, etc. Create safe separation walls to prevent coronavirus infection through sneezing. Hand sanitizer dispenser banner stands and roll up banner stands are set up in public places to remind people to disinfect and wash their hands to prevent the spread of the virus.
COVID-19 Safety Signs Graphic Templates | Signleader Display

We offer a large number of COVID-19 safety signs graphic templates to meet your online design needs.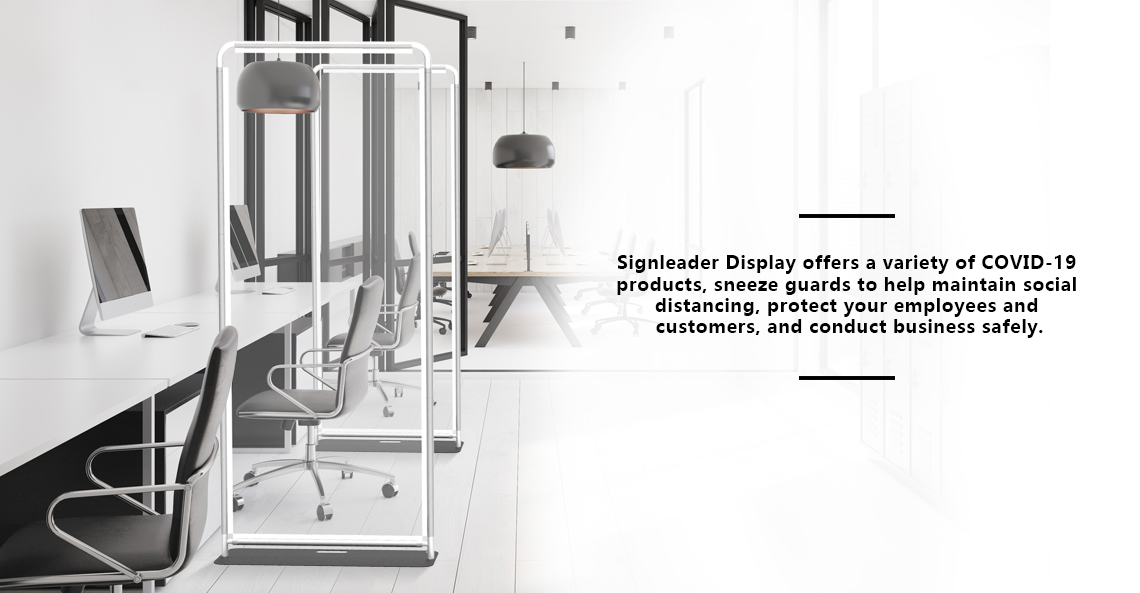 COVID-19 is a coronavirus caused by severe acute respiratory syndrome, which is mainly spread by droplets between people, such as sneezing, coughing, or talking. Maintaining social distancing and maximizing personal hygiene can reduce the risk of spreading the virus and reduce the risk of contracting the virus.
During the COVID-19 pandemic, Signleader Display has innovatively developed a variety of sneeze guards transparent screen isolation shields to help create safety and healthy working, learning, and living environments. Adjustable sneeze shields are very suitable for medical institutions, schools, offices, delicatessen, restaurants, gyms, retail stores, and grocery stores, cash registers, banks, pharmacies, warehouse workstations, salons and other commercial institutions, casinos, etc. Locations between stations, waiting areas, and even airports or public transportation locations.
The adjustable aluminum tube sneeze guard frames can be adjusted according to your need and have greater flexibility to meet the needs of all-round services. Companies can request their desired dimensions for installation on employee desks, teller stations, and cashier counters. The sneeze shields form protective barriers between people to reduce exposure to unsafe bacteria, mucus, saliva, and other pollutants.
As the urgency of social distancing becomes more and more urgent, basic business just shows that various industries need to ensure their own safety while providing services to the public. The portable sneeze guards keep you and your employees safe and infection control in the work environment while continuing to provide the best service to customers.
We offer a variety of COVID-19 products, including sneeze guards, hand sanitizer dispenser banner stands, custom banners, advertising flags, A-frame signs, yard signs, poster stands, roll up banner stands with coronavirus safety warn & notification graphic printed.
COVID-19 safety signs are very suitable for business notifications of companies of all sizes. For example, we are open, big sales now, and remind customers to keep social distance, wear masks, wash hands frequently, curbside pickup here, etc. Placed advertising flags, vinyl banners, a-frame signs, poster stands, and yard signs with coronavirus graphic print to your business premise, which not only reminds customers to raise awareness of health and epidemic prevention but also raise customer care and increase their trust in your business.
Frequently Asked Questions and Answers

Q: What information should I display on the coronavirus business signs for reminders and notifications?
A: Coronavirus signage for business is aiming to help companies adjust their marketing efforts to adapt to the new needs brought by COVID-19. COVID-19 signage ranges from external signs advertising curbside pickup here to personalized disinfect handwashing signs.
COVID-19 signage is one of the best ways to establish a safe environment for visitors and helps convey important health and safety information. For example, informing customers to keep social distancing, wash hands regularly, wear masks to increase awareness of hygiene, and epidemic prevention. You can find many graphic templates for COVID-19 signs in our design library.
Q: What are the types of sneeze guards?
A: Signleader Display provides adjustable & portable clear PVC screen sneeze guards, 3ft, 4ft transparent PVC sneeze shields, clear isolation sneeze guard banner stands. During Covid-19, sneeze guards placed in public places, which become our new normal will help create safer work, study, and healthy environments for communicating face-to-face with customers again. Our team will be happy to help you incorporate our sneeze shields into your business.
Q: My business plans to reopen, and which COVID-19 sign should I use to inform customers?
A: If your company plans to reopen, please display the business information on the COVID-19 sign in the window, or use vinyl banners, advertising flags, A-frame signs, poster stands, yard signs, and roll up banners to announce the reopening, so that customers can maintain business contact.
Q: Can I enjoy free design services?
A: You can upload artwork directly, or use our online design tool. We provide a large number of graphic templates to meet your coronavirus business signs design needs. In addition, you can also use our free manual design service. Signleader Display is committed to giving you the best user experience.
Q: How to charge freight?
A: We offer free ground transportation for all orders over $99.00 in the United States (excluding Alaska and Hawaii).
Q: How long delivery after the order payment?

A: All custom signs will be generated quickly. After your order is placed before 2 pm PST, the artwork will be shipped on the next business day. Ground transportation is free and takes about 2-5 working days. If you want to get it in your hands faster, other shipping methods will suit your needs.
There are no products to list in this category.