10x20 Canopy Frame - 40mm Aluminum Tent Hardware
283
Tent-10x20-HW
10x20 Canopy Frame - 40mm Aluminum Tent Hardware
✔ 20% OFF Custom Trade Show Tents, apply coupon OFF20 on checkout.
Free Shipping
✔ Free 3D Mock-Up & Graphic Design
✔ Free Ground Shipping on Orders over $500
Estimated Delivery Date
PS: If you pick up the design and color matching service, the delivery time will be lated.
Product Details
Durable 1.6-inch (40 mm) heavy-duty aluminum frame, adjustable crank, retractable legs and stable pedals. Easy to set up and take down. Estimated lifespan about 1-3 years. Match perfectly into your tent full walls, half sidewalls, and canopy top accessories.
Signleader Display's canopy tent frames are constructed robust enough for outdoor events. Light and simple sufficient, assembly without tools to cope with, but with the power and stability to rise up to a variety of weather conditions.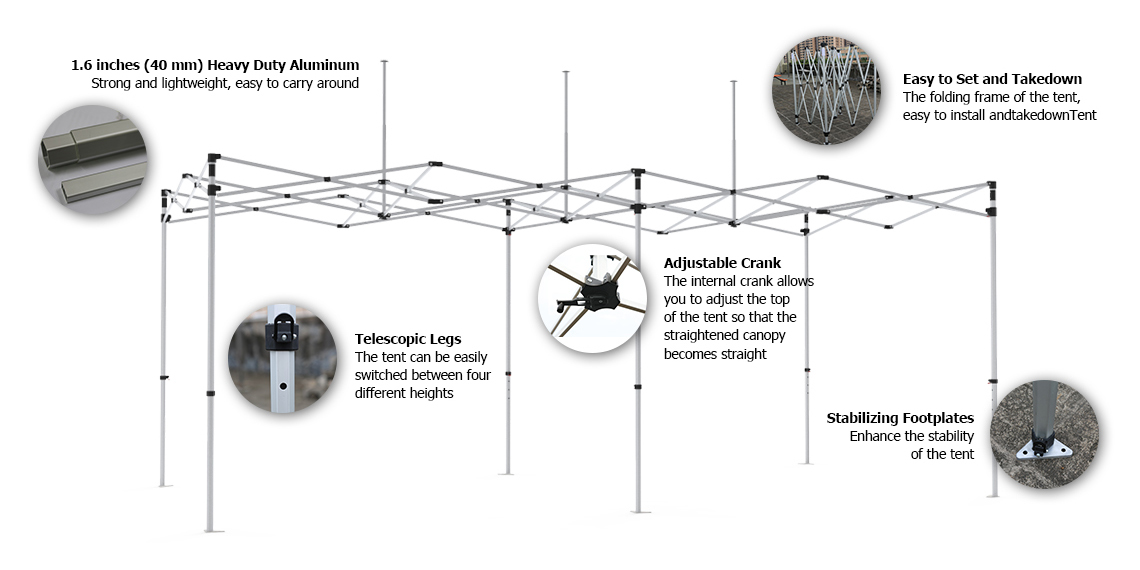 Size & Weight:
Size:
120"w x 120"d x 124.5"h (smallest)
120"w x 120"d x 137"h (largest)
Weight: 43 lbs
Application:
Indoor & outdoor use. Marketing events, sales booths, sporting events, business events, fairs, festivals, trade shows, etc.
Package Includes:
1pc Durable 1.6-inch (40 mm) Heavy-Duty Aluminum Frame for Canopy Tent
There are no frequently asked questions for this product...