Real Estate Post
144
RE-BSHP-36X24-GDHW
✔ Free 3D Mock-Up & Graphic Design
✔ Free Ground Shipping on Orders over $500
Estimated Delivery Date
PS: If you pick up the design and color matching service, the delivery time will be lated.
Product Details
To spread the message about your real estate listing, our Real Estate Posts are an extremely convenient solution for any Realtor. This Real Estate Sign Holder Post is one of the most popular Real Estate Sign. The Real Estate Sign Post Stakes are adjustable for different sizes of signs. The Small Post can hold up to a 24" wide sign. Typically customers use an 24""x18"" or 24""x36"" sign. The Large Post can hold up to a 36" wide sign. For that arm common sizes are 36"x24" or 36"x48".
The PVC hardware is durable but lightweight enough for a single person installation. The arm, quick-install ground stake, caps, and hanging hardware all fit within the body of the vertical post for compact storage and transport. Our quick-install ground stake makes displaying the Real Estate Post easy and digs free. No shovel is required, simply hammer the stake into the ground and fit the PVC post over the stake.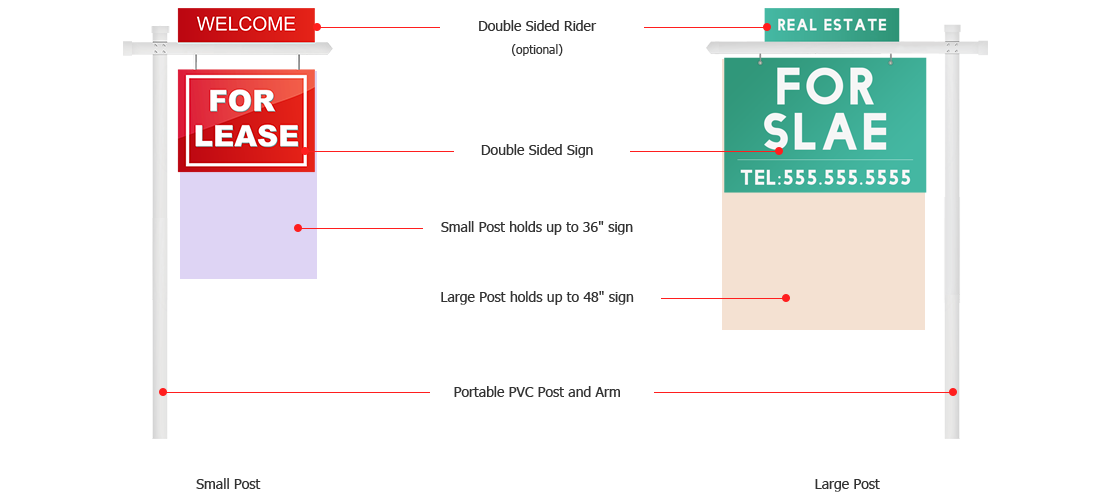 22"" x 28"" Poster Stand|Highlights
Features:


Large Post holds up to 48"" sign
Small Post holds up to 36"" sign
Ready to Hang Double Sided Sign and Rider (optional)
Portable PVC Post and Arm
Quick Install Ground Stake
Long term outdoor use, waterproof and UV safe

Uses:


Outdoor Marketing for Real Estate.
There are no frequently asked questions for this product...