10ft Custom Portable Trade Show Booth Kit T
309
TSB-10FT-T
10ft Custom Portable Trade Show Booth Kit T
Free Shipping
✔ Free 3D Mock-Up & Graphic Design
✔ Free Ground Shipping on Orders over $500
Estimated Delivery Date
PS: If you pick up the design and color matching service, the delivery time will be lated.
Product Details
Signleader Display's trade show booth ideas will make your booth attract more traffic, increase brand awareness and improve the ROI of the event. We have an experienced professional team to help build your brand and achieve your goals at trade show. At Signleader, we can create experiences that will help you connect with your audience, tell your story and provide the desired results. Turn your trade show booth concept into reality, and we can provide you with a comprehensive solution.
The trade show booth frame is made of strong aluminum tube, which is easy to set up and transport. Our creative trade show display kit can help you save time to think about the style of the booth and create the best experience for you.
Customized tension fabric graphic are printed on world-class large-format printers using full-color printing technology, with bright colors and vivid patterns. The pillowcase-like tension fabric graphic can be inserted from the frame and tightened, and then tightened by the zipper at the bottom to create a wrinkle-free and elegant appearance.
A creative trade show booth experience can fully attract attendees and activate your brand. Signleader Display is a trade show displays experience supplier that provides you with a full range of services. We will help you create an extraordinary experience, increase traffic, and bring you more revenue.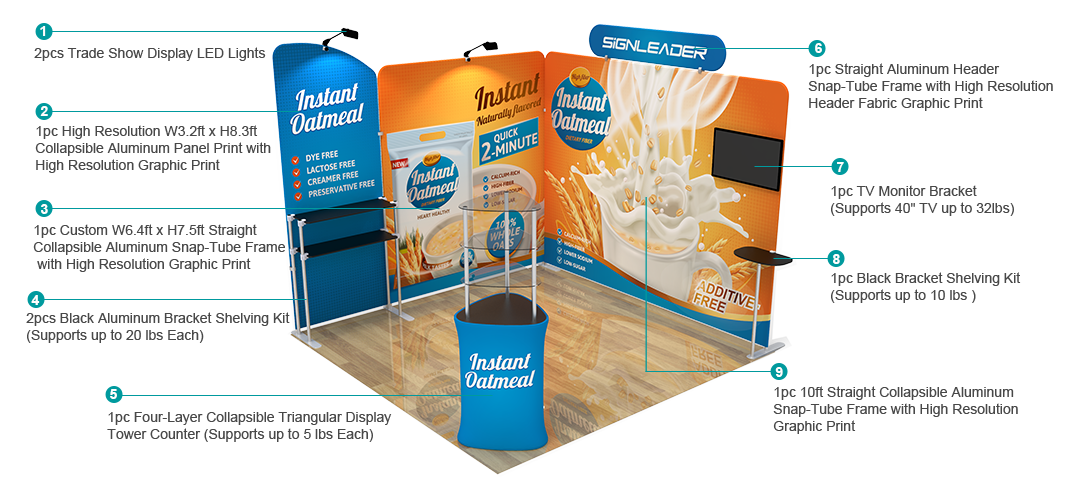 Feature:
Fire Retardant Fabric Printing.
Machine Washable.
Reusable & Recyclable.
High Resolution Zippered Custom Tension Fabric Graphic Printing.

Easy to Set up & Install without Tools.
Portable and Versatility.
Sturdy & Durable.
With Proper Maintenance, the Graphic Fade Resistance Can Last for Several Years.
Standard Kit Includes:
1pc 10ft Straight Panel Collapsible Aluminum Snap-Tube Frame with Custom Printed Graphic
1pc Custom W3.2ft x H8.3ft Angled Panel Collapsible Aluminum Snap-Tube Frame
1pc Custom Printed Graphic for W3.2ft x H8.3ft Panel
1pc Custom W6.4ft x H7.5ft Straight Panel Collapsible Aluminum Snap-Tube Frame
1pc Custom Printed Graphic for W6.4ft x H7.5ft Panel
1pc Straight Aluminum Header Snap-Tube Frame with High-Resolution Header Fabric Graphic Print
1pc Black Bracket Shelving Kit (Supports up to 10 lbs )
2pcs Black Aluminum Bracket Shelving Kit (Supports up to 20 lbs Each)
1pc Monitor Mount (Supports up to 40"" TV)
1pc Four-Layer Collapsible Triangular Display Tower Counter (Supports up to 5 lbs Each)
1pc Custom Triangular Counter Fabric Printed
2pcs Trade Show Display LED Lights
There are no frequently asked questions for this product...