10ft Custom Portable Trade Show Booth Kit J
300
TSB-10FT-J
10ft Custom Portable Trade Show Booth Kit J
Free Shipping
✔ Free 3D Mock-Up & Graphic Design
✔ Free Ground Shipping on Orders over $500
Estimated Delivery Date
PS: If you pick up the design and color matching service, the delivery time will be lated.
Product Details
An important factor in the success of a trade show is to design an attractive trade show booth. Creative exhibition booths attract visitors and enable them to participate in your brand. Signleader's 10×10 trade show booths can help you exert brand influence and build strong relationships with potential customers.
By investing in a 10×10 trade show booth to enter the exhibition, you will make it stand out in an innovative way. At Signleader Display, we can turn your 10×10 trade show booth ideas into reality to attract trade show participants' attention to your brand. Get more visibility at trade shows and provide your business with a good return on investment.
This kit includes 10ft 3D collapsible wall box snap-tube frame with custom graphic printed, and a folding cocktail table stand with customize printed cover, and 2pcs LED lights. A hard case with wheels to podium with high resolution printing tension fabric graphic, and 1pc tablet & brochure banner stand.
Signleader Display's trade show booth ideas concepts help you create a customized brand experience that you can be proud of.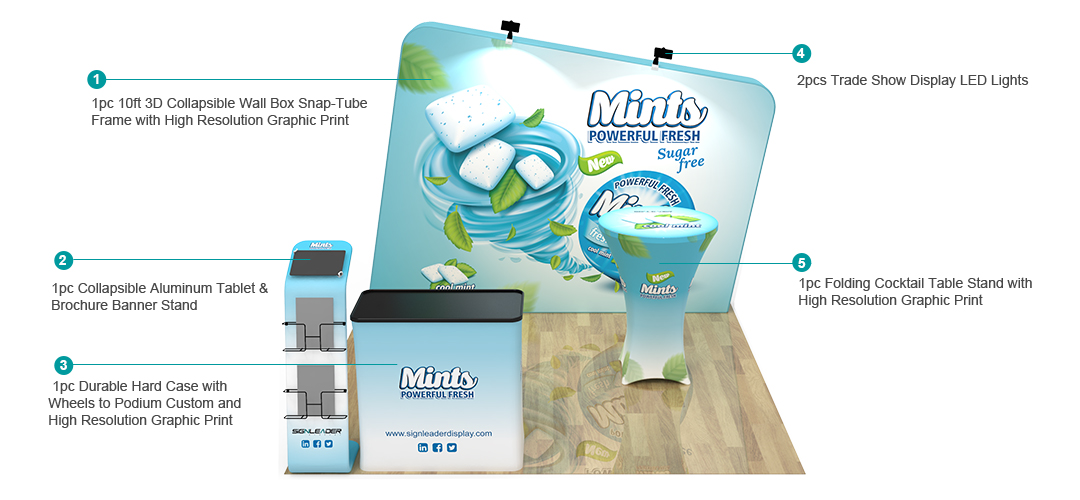 Feature:
Fire Retardant Fabric Printing.
Machine Washable.
Reusable & Recyclable.
High Resolution Zippered Custom Tension Fabric Graphic Printing.

Easy to Set up & Install without Tools.
Portable and Versatility.
Sturdy & Durable.
With Proper Maintenance, the Graphic Fade Resistance Can Last for Several Years.
Standard Kit Includes:
1pc 10ft 3D Collapsible Wall Box Snap-Tube Frame
1pc Custom Logo Printing Tension Fabric Graphic
2pcs Trade Show Display LED Lights
1pc Collapsible Aluminum Tablet & Brochure Banner Stand with Custom Printing Graphic
1pc Folding Cocktail Table Stand
1pc Folding Cocktail table Stand Printed Cover
1pc Durable Hard Case with Wheels
1pc Premium Case to Podium Custom Printed Tension Fabric Graphic
There are no frequently asked questions for this product...
Select One of the Following
Free Graphic Design
Need a Hand? Please Submit a Free Design Services Request.