10ft Commercial Portable Custom Trade Show Booth Combo 04
320
TSB-10FT-04
10ft Commercial Portable Custom Trade Show Booth Combo 04
Free Shipping
✔ Free 3D Mock-Up & Graphic Design
✔ Free Ground Shipping on Orders over $500
Estimated Delivery Date
PS: If you pick up the design and color matching service, the delivery time will be lated.
Prodct Details
Are you looking for a trade show stand supplier to create a customized trade show stand that highlights your company's brand image and fits your marketing strategy? Signleader Display has a wealth of experience and can help you create a creative trade show stand to attract potential customers and build your brand. We work with clients of all sizes whether you are a brand new start-up, small or medium enterprise, or a large listed company, we can turn your trade show stand concept into reality.

This portable custom booth kit ensures that your trade show display gets attention and stays within your budget. We aim to allow your company to hold a successful trade show, increase brand awareness, and achieve business growth.

The frame is made of a durable aluminum tube, which is easy to install and transport. The high-resolution pillowcase pattern is very easy to install on the bracket and fasten it in place with the zipper at the bottom, creating a wrinkle-free professional and elegant appearance in just a few minutes.

A custom W3ft x H8ft flat tension fabric backwall display and a W6ft x H7.5ft custom sectorial top tension fabric backwall display, and snakelike brochure & literature, and a hard case to podium with graphic print. Different panel designs to help you maximize show your brand image. This kit is your best choice to meet your unique creativity.

WOW, Signleader Display provides customized trade booth kits to help you stand out from the competition in the exhibition, bring more traffic and better potential customers to your team, and maximize the return on investment.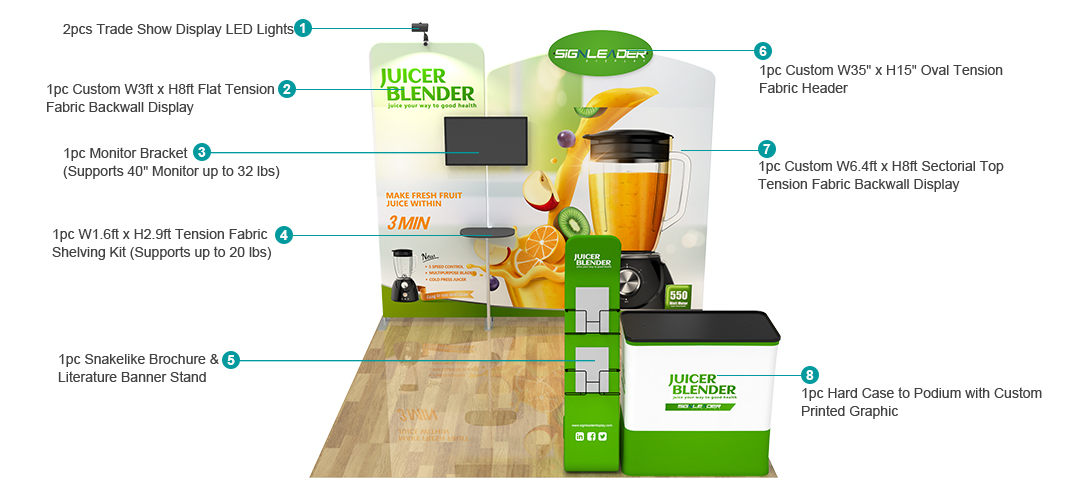 Feature:
Fire Retardant Fabric Printing.
Machine Washable.
Reusable & Recyclable.
High Resolution Zippered Custom Tension Fabric Graphic Printing.

Easy to Set up & Install without Tools.
Portable and Versatility.
Sturdy & Durable.
With Proper Maintenance, the Graphic Fade Resistance Can Last for Several Years.
Standard Kit Includes:
1pc Custom W3ft x H8ft Flat Tension Fabric Backwall Display
1pc W35" x H15" Custom Oval Tension Fabric Header
1pc W6ft x H7.5ft Custom Sectorial Top Tension Fabric Backwall Display
1pc Monitor Bracket (Supports 40" Monitor up to 32 lbs)
1pc W1.6ft x H2.9ft Tension Fabric Shelving Kit (Supports up to 20 lbs
1pc Hard Case to Podium with Custom Printed Graphic
1pc Snakelike Brochure & Literature Banner Stand
1pc Trade Show Display LED Lights

There are no frequently asked questions for this product...