10ft Curved Portable Trade Show Booth Kit 22
221
TSB-10FT04-07
10ft Curved Portable Trade Show Booth Kit 22
Free Shipping
✔ Free 3D Mock-Up & Graphic Design
✔ Free Ground Shipping on Orders over $500
Estimated Delivery Date
PS: If you pick up the design and color matching service, the delivery time will be lated.
Product Details
Exhition events and trade show booths are great opportunities to showcase your brand's creativity. Signleader Display provides a variety of standard portable trade show booth kits to meet your various budgets, come with Led lights and some trade show display components will have a huge impact on your brand! Signleader is aim to help turn your creative booth concept into reality and attract consumers to purchase and remember your brand. We will provide solutions based on your specific needs and goals.
10ft curved portable trade show booth kit 22, which is an excellent way for you to interact with potential customers and consumers, effectively conveying to your audience about the goods or services your business provides. An attractive trade show booth can make you stand out in the exhibition and bring organic word-of-mouth to the enterprise, as well as generate high-quality potential customers, which helps to increase ROI.
This Kit includes 1pc 10ft curved & collapsible aluminum tension fabric trade show backwall display with custom vivid full-color graphics, 1pc W58"" x H12"" tension fabric header, 1pc triangular display tower counter with custom graphic print, 1pc durable hard case to podium with custom graphic printed, and 2 pcs trade show display LED lights. Portable, easy to assemble and realistic graphics. Fast turnaround, free shipping, order now! Checkout with coupon code: HS001 to get 10% off.
Get started to provide your trade show booth design artwork, we will help realize your creative concept, or use our free design service. Signleader Display has realized the fascinating experience of thousands of brands custom trade show booths, portable exhibition displays and pop up displays.
Signleader Display has a large number of trade show booth ideas to help you stand out in your next event. All trade show displays can be customized to match your brand and marketing message. We will achieve an unforgettable brand experience for you to help attract the attention of potential customers and customers, and to promote your business growth.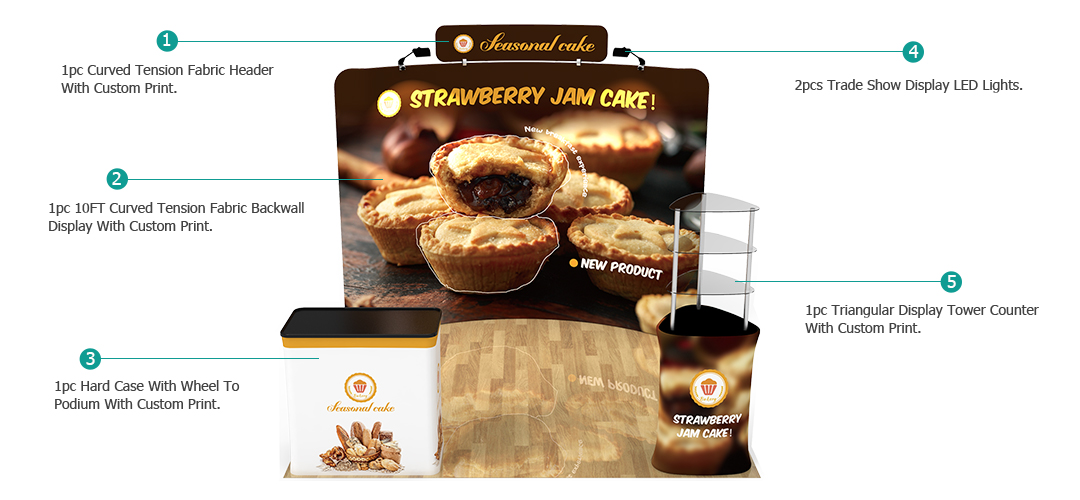 Feature:
Fire Retardant Fabric Printing.
Machine Washable.
Reusable & Recyclable.
10ft Curved & Collapsible Aluminum Snap Tube Frame.
High Resolution Zippered Custom Tension Fabric Graphic Printing.
Easy to Set up & Install without Tools.
Portable and Versatility.
Sturdy & Durable.
With Proper Maintenance, the Graphic Fade Resistance Can Last for Several Years.
Standard Kit Includes:
1pc 10ft Curved & Collapsible Aluminum Snap-Tube Frame
1pc 10ft Zippered Heat Transfer Custom Printing Tension Fabric Graphic
1pc Curved Aluminum Header Snap-Tube Frame
1pc High Quality Realistic Header Tension Fabric Graphic Print
1pc Durable Hard Case with Wheels
1pc Premium Case to Podium Custom Printing Tension Fabric Graphic
1pc Four-layer Collapsible Triangular Display Tower
1pc High Resolution Zippered Custom Printing Graphic for Triangular Display Tower
3pcs Plexiglass Shelving Kit (Supports up to 5 lbs Each)
2pcs Trade Show Display LED Lights & Clips
There are no frequently asked questions for this product...