20x20ft Commercial Custom Trade Show Booth Combo B
380
TSB-20x20-B
20x20ft Commercial Custom Trade Show Booth Combo B
Free Shipping
✔ Free 3D Mock-Up & Graphic Design
✔ Free Ground Shipping on Orders over $500
Estimated Delivery Date
PS: If you pick up the design and color matching service, the delivery time will be lated.
Product Details
Are you looking for an attractive trade booth solution that represents your brand? Signleader Display can enhance your experiential marketing power and let us help you create a trade show booth that will impress your guests for a long time after the event. Whether it's a custom trade show booth or use our popular portable trade show booth combo, I believe Signleader Display can create an eye-catching solution for you, which will surely make you stand out from the crowded exhibition hall.
Immediately create a creative trade show booth to fully attract attendees, not only to promote your brand, but also to maximize the return on investment. As a full-service trade show booth supplier, we will help you create extraordinary trade show booths to attract attendees, encourage meaningful participation and tell your unique story.
Signleader Display is a one-stop shopping site that meets all your trade show needs. You can find everything you need for any promotion. The custom graphic design expresses your brand and allows you to stand out from the competition.
This trade show booth combo can meet your exhibition needs. You can upload artwork directly or use our free design service to help you turn the concept of a trade show booth into reality.
Product Features
Fire Retardant Fabric Printing.
Machine Washable.
Reusable & Recyclable.
High-Resolution Zippered Custom Tension Fabric Graphic Printing.
Easy to Set up & Install without Tools.
Portable and Versatility.
Sturdy & Durable.
With Proper Maintenance, the Graphic Fade Resistance Can Last for Several Years.
Standard Package Includes:
1pcs D10ft x H3ft Circular Tube Hanging Banner | TSP-HB-Circular-07
1pcs W20ft x H7.5ft x D1ft Cubic Horizontal Column | TSP-TSC-20X7.5X1
2pcs W12.5ft x H8.7ft x D3.3ft N-Shaped Archy Monitor Display Stands | TSP-A-N-12.5X8.7X3.3
2pcs TV Brackets (Supports 40in TV up to 32 lbs, VESA Compliant with 200x200, 200x400, 300x300 or 400x400 mm) | TSP-A-Bracket
2pcs Trade Show Display Podiums/Hard Cases with Wheels | TSP-HC-003
1pcs Portable iPad Literature & Brochure Banner Stand | TSP-LBS-Ipad-HWGD
2pcs Custom Cocktail Table Covers for Trade Shows | TSP-BT-Cocktail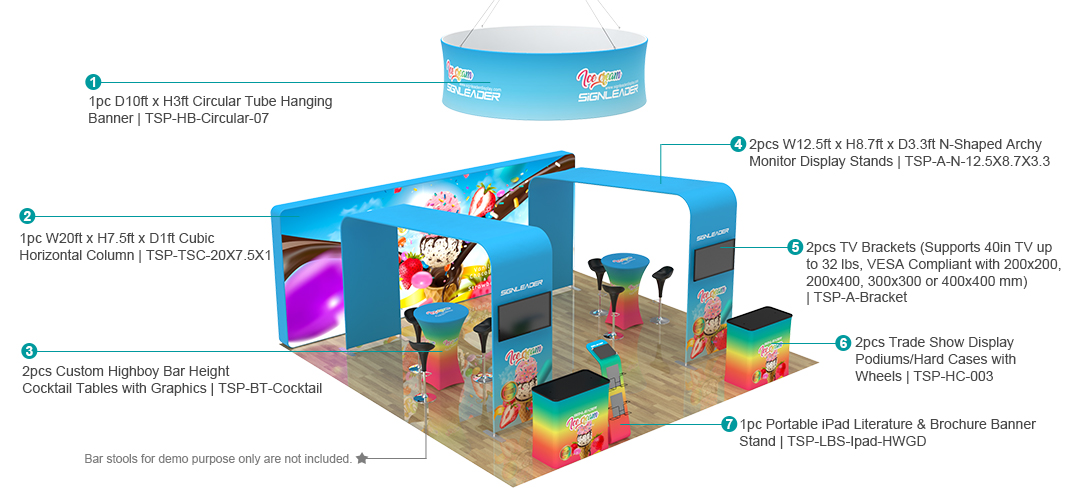 Q
Do you accept credit cards?
Yes. We accept American Express, MasterCard, Visa, and Discover. Please make sure your billing address matches the address on your credit card when placing your order.